Lost Vape Box Grus 100W
€43.50
Lost Vape Box Grus
100W μας παρουσιάζει ένα εκπληκτικό mod σε ιδιαίτερα ελκυστική τιμή. Κατασκευασμένο από ανθεκτικότατο κράμα zink alloy προσφέρει εξαιρετική αίσθηση στην αφή και στο πιάσιμο. Διαθέτει δυνατότητα ταχύτατης φόρτισης μέσω θύρας USB Type-C, έγχρωμη παραμετροποιήσιμη TFT οθόνη 0,96 ιντσών, και προσφέρει όλες τις ασφάλειες υψηλού επιπέδου που μας έχει συνηθίσει η εταιρία, καθώς και εξαιρετική λειτουργία ελέγχου θερμοκρασίας. Δέχεται ατμοποιητές με διάμετρο έως και 30mm χωρίς over-hung και τροφοδοτείται από μία μπαταρία 21700/20700/18650, για μέγιστη απόδοση 100W και εξαιρετική αυτονομία.
BLACK / CARBON FIBER
In stock
Email σε φίλο
Description
Lost Vape Box Grus 100W
More info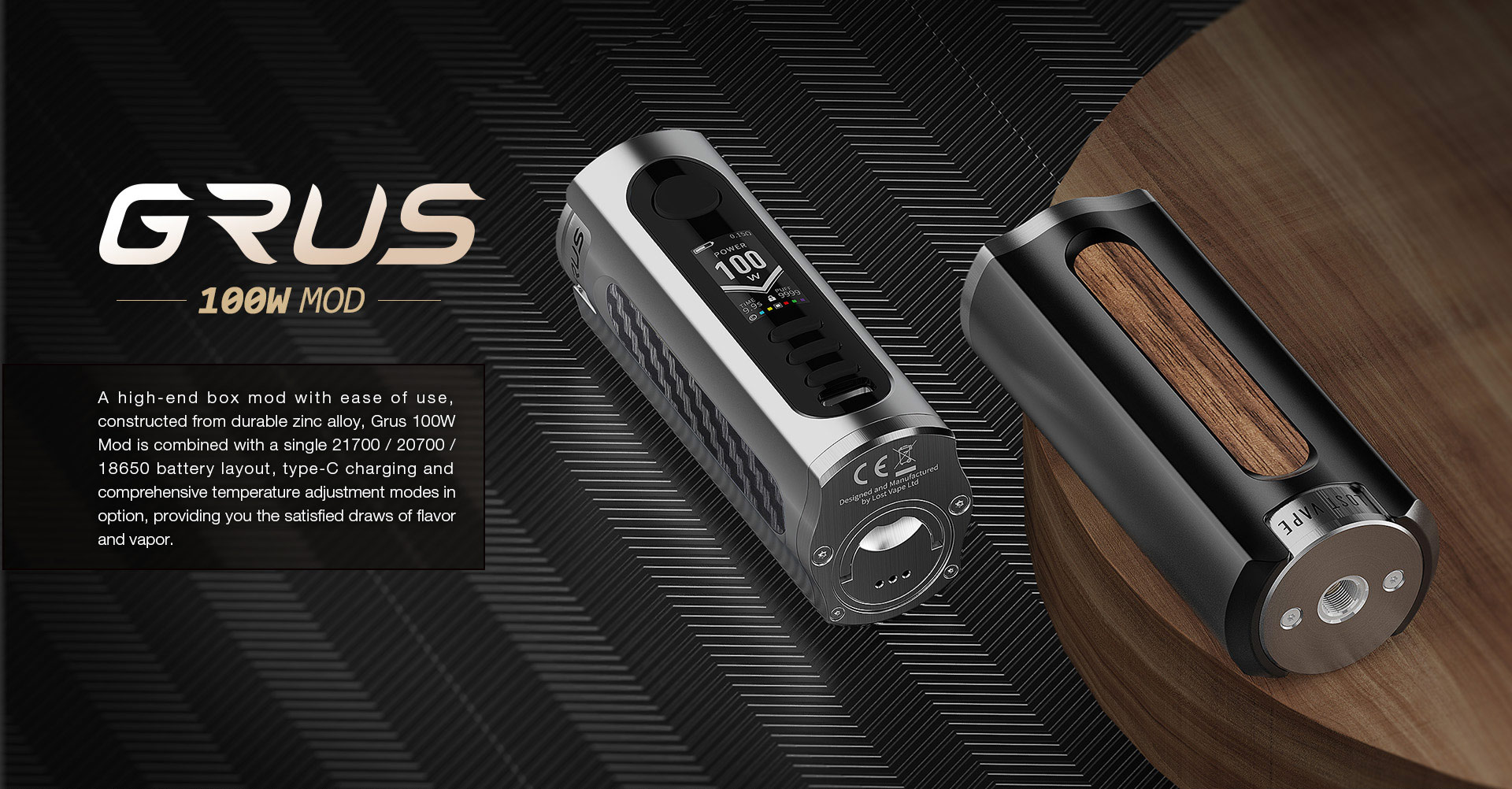 Lost Vape offers you its Grus box. It has dimensions of 94.6 x 40.5 x 30.5 mm for a weight of 176g. Entirely designed in zinc alloy, it is elegant and sober at the same time, while offering perfect ergonomics. With its 30mm diameter, it will be compatible with the majority of the atomizers on the market.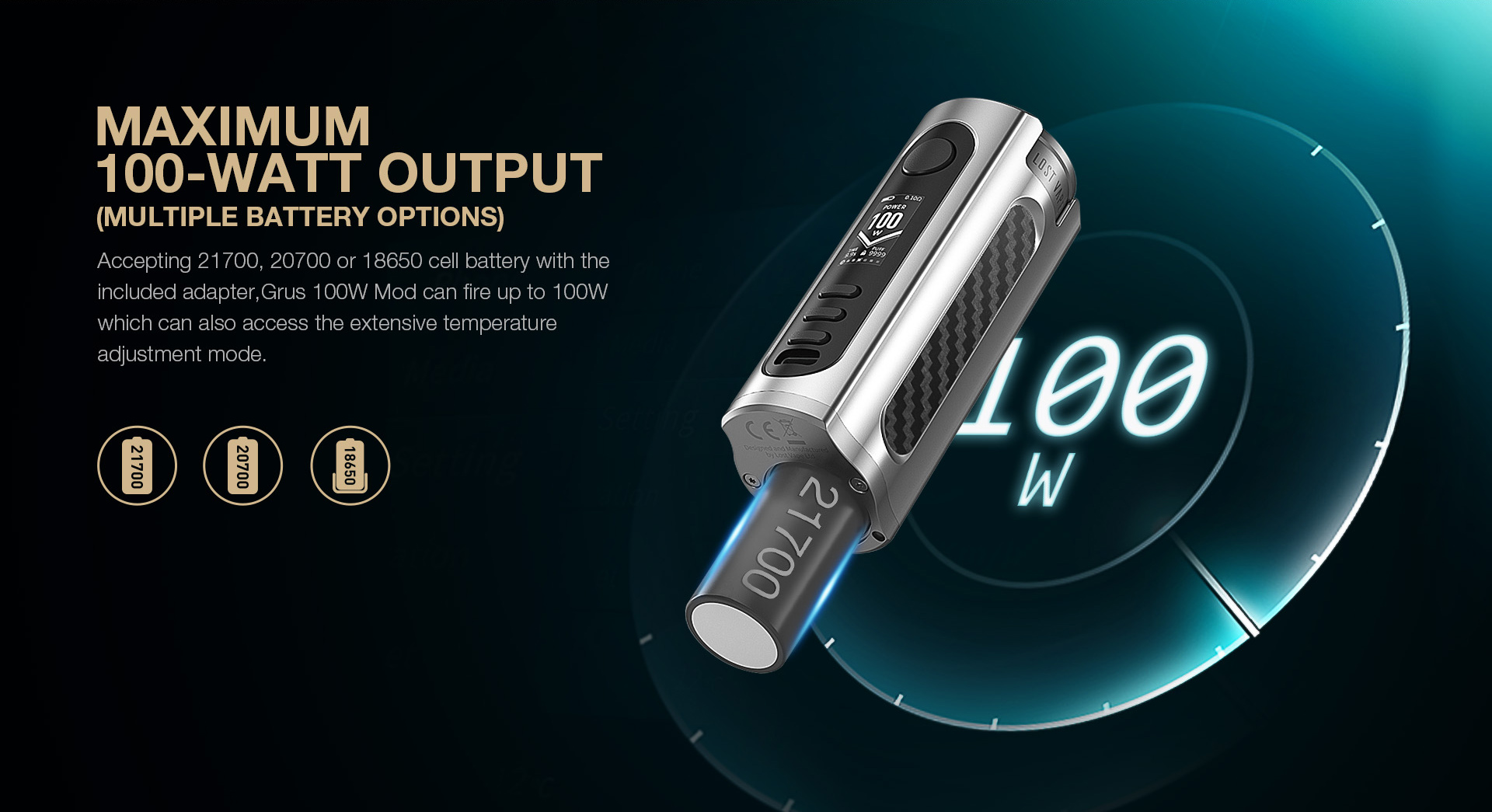 The Grus box works with a removable battery. You can choose between a 21700, 20700 or 18650 battery pack with an adapter. In this way, the vaporizer will have a large autonomy for its daily life. It will be able to recharge this battery using the USB cable provided, but we recommend using an independent battery charger to ensure a longer life for your equipment.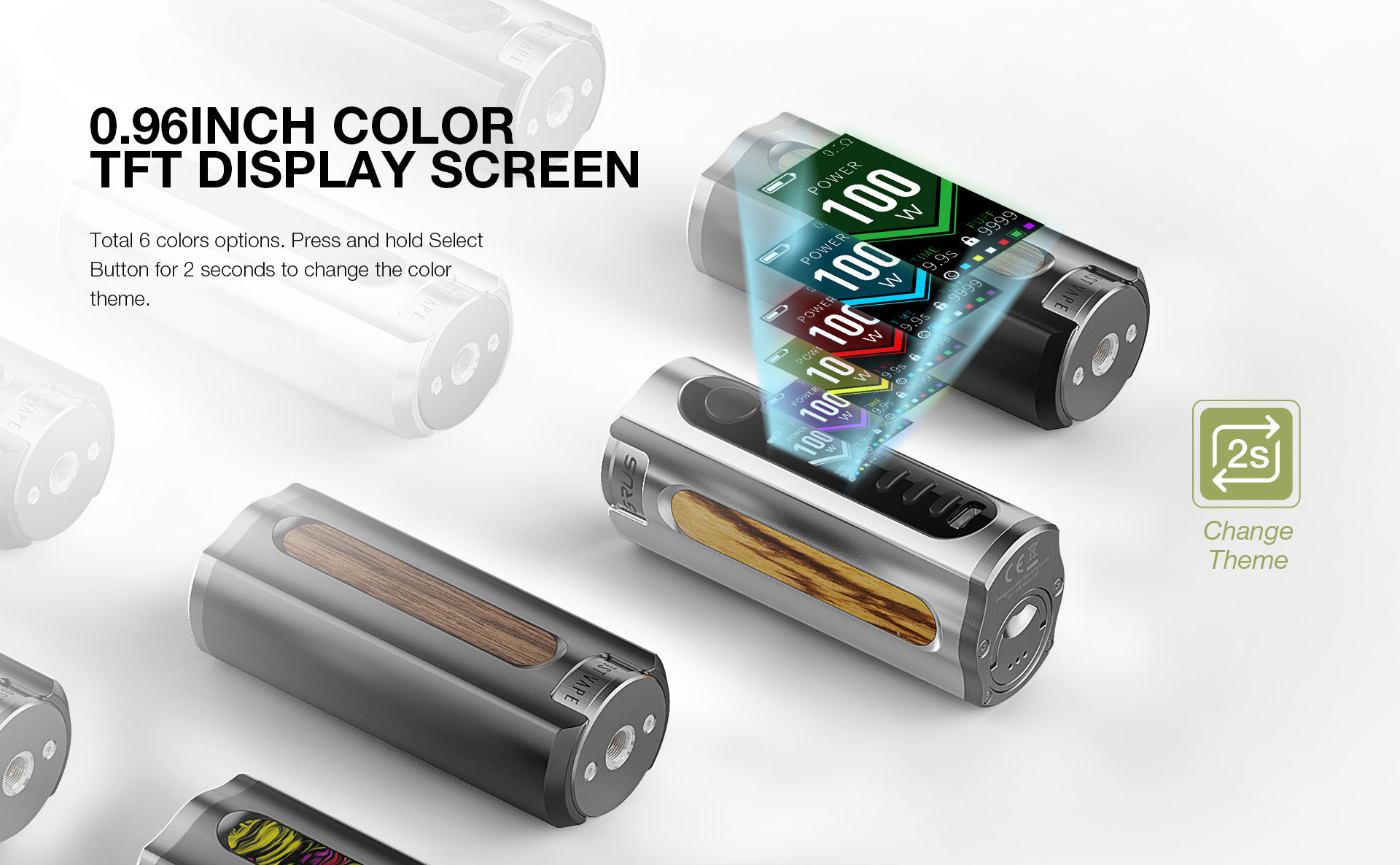 The Grus box offers adjustable power up to 100W with two dimmer buttons and a 0.96″ TFT color screen. This screen can be customized with six different color choices.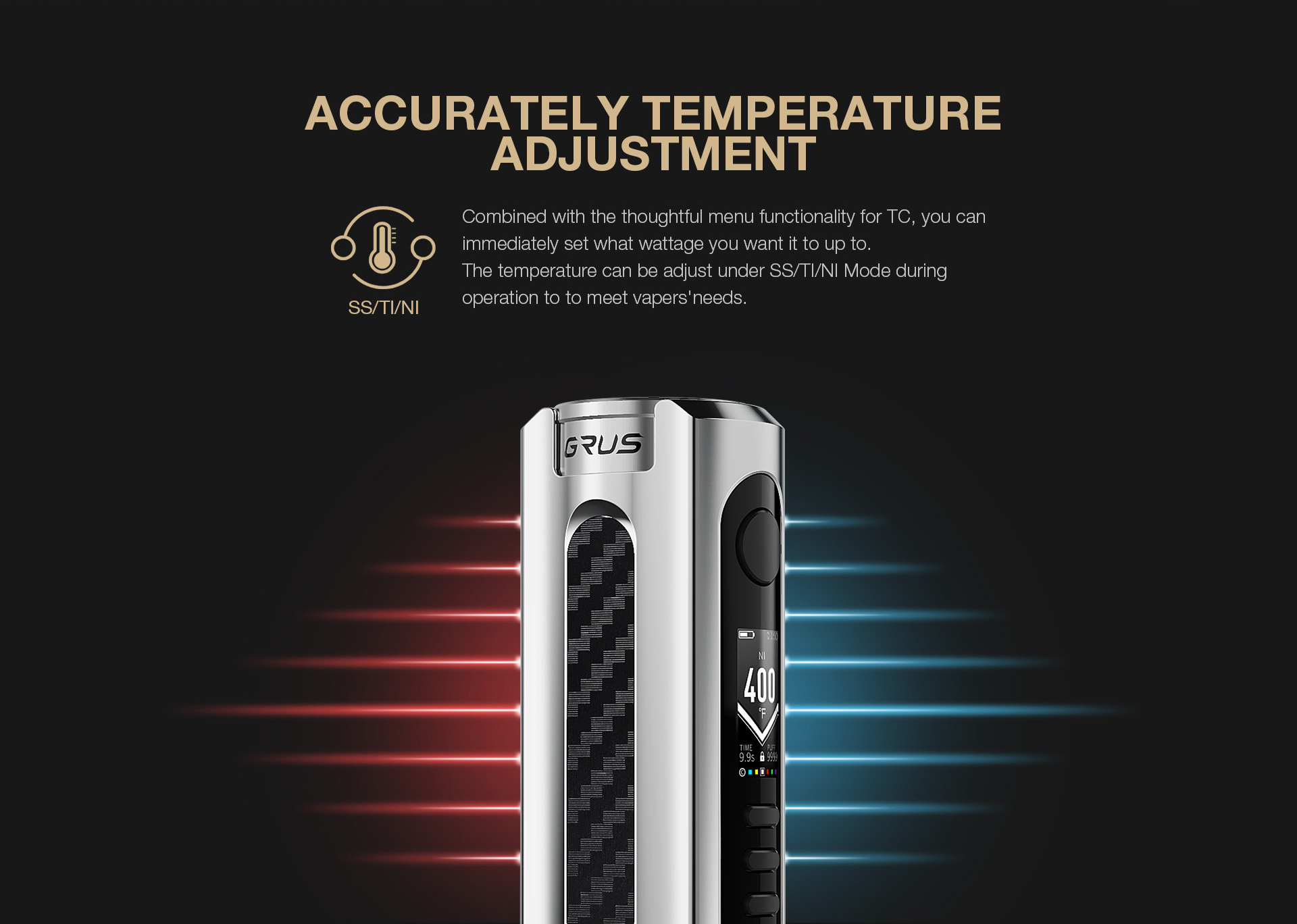 The Grus box also offers the temperature control mode (Ni, Ti, SS) between 100 and 300°C for a perfect fit to your taste.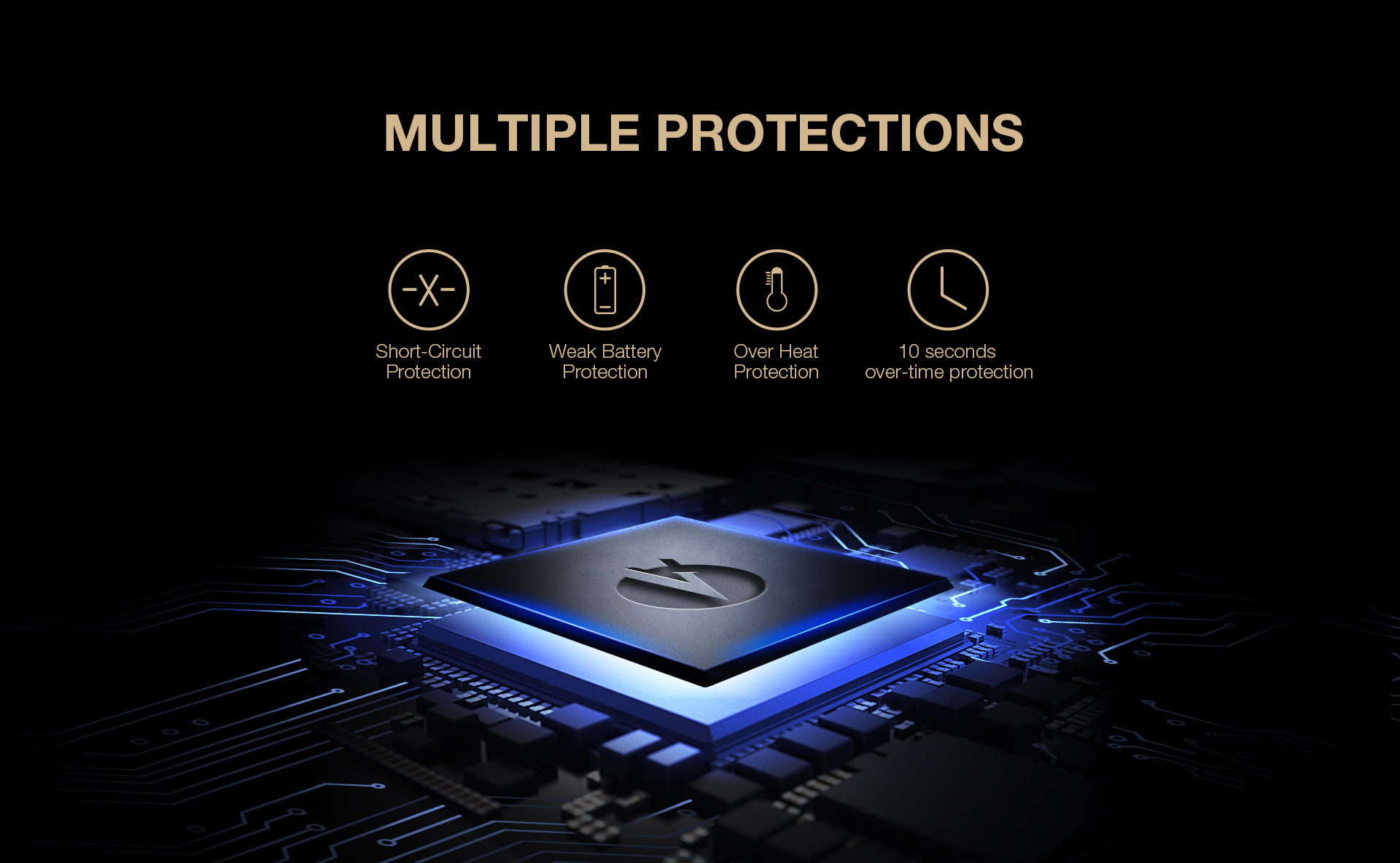 Finally, the Grus box is equipped with a complete set of electronic protections that allows to produce a safe vape at any time. It integrates protection against short circuit, weak battery, overheating and inhalation for more than 10 seconds.
Features
Dimensions: 94.6 x 40.5 x 30.5 mm
Weight: 176g
Material: zinc alloy
Battery: one battery 21700 / 20700 / 18650 (not included)
Operating modes: TC (Ni, Ti, SS) / VW
Voltage range: 0.8-7V
Power range: 5-100W
Temperature range: 200°F-600°F / 100°C-300°C
Coil range: 0.1-5.0ohm
Customizable 0.96″ TFT color screen
Charging via USB Type-C cable
Complete set of electronic protections
Connectors: 510
Content
1 x box Grus
1 x USB Type-C cable
1 x battery adapter 18650
1 x warranty card
1 x user manual
Data sheet
| | |
| --- | --- |
| Device type | Mods & Boxs |
| Mod type | Regulated boxs |
| External battery type | 1 battery |
| Battery Type | 18650 / 20700 / 21700 (not included) |
| Micro USB | Charging only |
| Maximum output | 100W |
| Tank compatibily | 30mm max. |
| Connector | 510 |
| Electronic protections | Yes |
+

ΠΟΛΙΤΙΚΗ ΠΑΡΑΔΟΣΗΣ
Με όποιον τρόπο και να γίνει η πληρωμή, αναλαμβάνουμε να παραδώσουμε τα αγαθά ή να παράσχουμε τις υπηρεσίες μας εντός 2 εργάσιμων ημερών από την υποβολή της παραγγελίας αρκεί να γίνει πριν τις 16:45. Αφορά εργάσιμες ημέρες από Δευτέρα - Παρασκευή.
+

ΕΠΙΣΤΡΟΦΕΣ/ΑΛΛΑΓΕΣ
Σε περίπτωση επιστροφής προϊόντων τα έξοδα επιστροφής επιβαρύνουν τον αγοραστή των προϊόντων (πελάτη). Αν τα προϊόντα δεν μπορούν υπό κανονικές συνθήκες να επιστραφούν ταχυδρομικώς, τότε η δαπάνη επιστροφής καθορίζεται κατόπιν συνεννόησης με το κατάστημα.
+

ΠΟΛΙΤΙΚΗ ΧΡΕΩΣΕΩΝ
Για παραγγελίες από 45 ευρώ και πάνω τα μεταφορικά είναι δωρεάν και δεν επιβαρύνουν τον αγοραστή, εκτός των περιπτώσεων που αναφέρονται
εδώ
. Σε περίπτωση αντικαταβολής η παραγγελία επιβαρύνεται με 2.5 € Παραγγελίες μικρότερες των 45€ έχουν επιβάρυνση στα μεταφορικά
2.5 €
  1.5 € για πακέτα έως 1 κιλό. Η παράδοση για Σάββατο έχει επιβάρυνση από την μεταφορική 3€.
+

ΠΟΛΙΤΙΚΗ ΑΚΥΡΩΣΗΣ
Εκτός του νόμου που δίνει το δικαίωμα επιστροφής προϊόντων (δικαίωμα υπαναχώρησης) στον αγοραστή εντός 14 ημερών, δεν ισχύουν άλλες προϋποθέσεις για την ακύρωση & επιστροφή μιας παραγγελίας.