Vaporesso Gen 220W Mod Black and Blue
€59.90
Vaporesso Gen 220W Mod Black and Blue
GEN makes high power devices more accessible to people than ever before. 220W in a 107 gram body that feels smooth yet textured and durable, it will feel like it's part of you. GEN keeps giving extra throughout every inhale to provide an extraordinary punch. Paired with our New AXON Chip makes it easier than ever to operate.
In stock
Email σε φίλο
Description
Vaporesso Gen 220W Mod Black and Blue
More info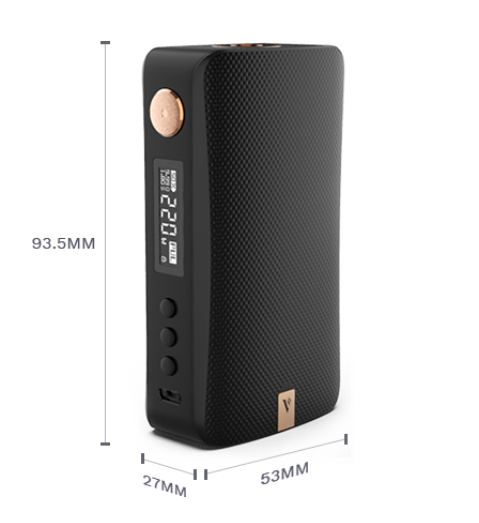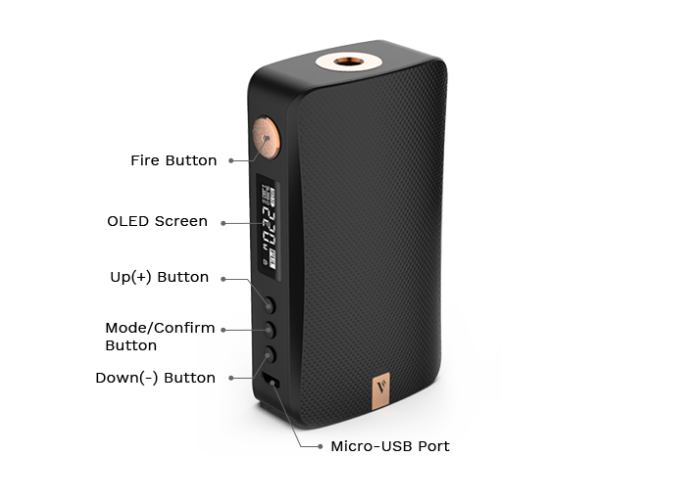 Features:
Dimension: 93.5mm x 54mm x 27mm
Display: 0.91″ OLED screen
Battery: 2 x 18650 cells(not included)
Power Range: 5-220W
Resistance Range: 0.03-5ohm
Innovative AXON chipset – 0.001s Insta-Fire
Modes: Pulse / Power Eco / Smart VW(H/N/S) / VT(SS, NI, TI) / CCT / CCW / VV / CCV /  BYPASS / Super Player.
TCR Adjustment – 2 Memory Modes
Short Circuit Protection
Burn Protection
No Load Protection
Overtime Protection
Low Resistance Protection
Low Power Protection
Overcharge Protection
ESD Circuit Protection
Pass Through Protection
MicroUSB Port – 2.5A Max Charge
Centered 510 Stainless Steel Connection
Content:
1 x Gen mod
1 × USB Cable
1 × User Guide
1 × Warranty Card
Additional information
| | |
| --- | --- |
| Style | BLACK, IRIS, GREEN APE |
+

ΠΟΛΙΤΙΚΗ ΠΑΡΑΔΟΣΗΣ
Με όποιον τρόπο και να γίνει η πληρωμή, αναλαμβάνουμε να παραδώσουμε τα αγαθά ή να παράσχουμε τις υπηρεσίες μας εντός 2 εργάσιμων ημερών από την υποβολή της παραγγελίας αρκεί να γίνει πριν τις 16:45. Αφορά εργάσιμες ημέρες από Δευτέρα - Παρασκευή.
+

ΕΠΙΣΤΡΟΦΕΣ/ΑΛΛΑΓΕΣ
Σε περίπτωση επιστροφής προϊόντων τα έξοδα επιστροφής επιβαρύνουν τον αγοραστή των προϊόντων (πελάτη). Αν τα προϊόντα δεν μπορούν υπό κανονικές συνθήκες να επιστραφούν ταχυδρομικώς, τότε η δαπάνη επιστροφής καθορίζεται κατόπιν συνεννόησης με το κατάστημα.
+

ΠΟΛΙΤΙΚΗ ΧΡΕΩΣΕΩΝ
Για παραγγελίες από 45 ευρώ και πάνω τα μεταφορικά είναι δωρεάν και δεν επιβαρύνουν τον αγοραστή, εκτός των περιπτώσεων που αναφέρονται
εδώ
. Σε περίπτωση αντικαταβολής η παραγγελία επιβαρύνεται με 2.5 € Παραγγελίες μικρότερες των 45€ έχουν επιβάρυνση στα μεταφορικά
2.5 €
  1.5 € για πακέτα έως 1 κιλό. Η παράδοση για Σάββατο έχει επιβάρυνση από την μεταφορική 3€.
+

ΠΟΛΙΤΙΚΗ ΑΚΥΡΩΣΗΣ
Εκτός του νόμου που δίνει το δικαίωμα επιστροφής προϊόντων (δικαίωμα υπαναχώρησης) στον αγοραστή εντός 14 ημερών, δεν ισχύουν άλλες προϋποθέσεις για την ακύρωση & επιστροφή μιας παραγγελίας.