VooPoo DRAG X Pod 80w
€39.00
Earn up to 390 Xsmokers Loyalty Points.
VooPoo DRAG X Pod 80w
Suitable for all vapers, the Voopoo Drag X kit is promised success. With its dimensions of 95 x 32.5 x 28 mm, it can deliver 80W of power and works with an 18650 battery (not supplied). Managed by the Gene.TT chipset it has VW mode but also a puff counter and a "Score Ranking" mode. 
The pod that accompanies it has 4.5 ml of capacity and is filled from the bottom. Its airflow is adjustable bringing an aerial or tighter vape. In addition, it is compatible with all Voopoo PnP resistors.
Voopoo PnP Mtl Empty Pod Pack Of 2
Email σε φίλο
Description
VooPoo DRAG X Pod 80w
More info
Voopoo's Drag X is the successor to Drag S. They are very similar with a few differences though. First of all, the Drag X kit is slightly larger at 95 x 32.5 x 28 mm. Its zinc alloy design allows it to be solid and to accompany its owner everywhere without any problem. There is also leather, which not only gives the kit a nice and attractive look but also prevents scratches and fingerprints!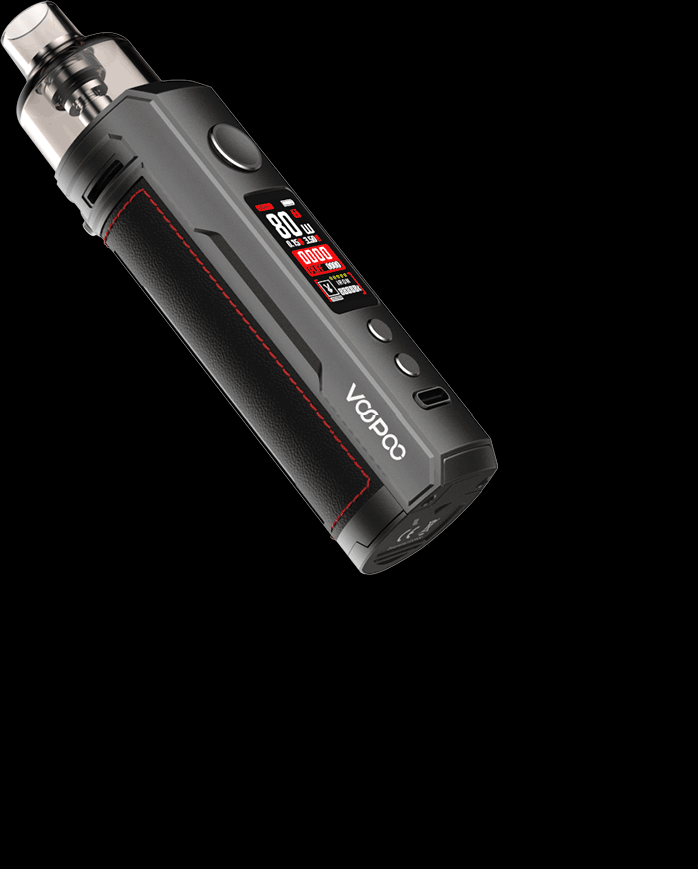 There is no longer an integrated battery as on the Drag S but a 18650 battery (not included) to have a good autonomy during the day. That's why the Drag X kit is bigger than its predecessor. It still has a USB port type-C to be able to recharge directly on the box but we still advise you to prefer to recharge via an external charger.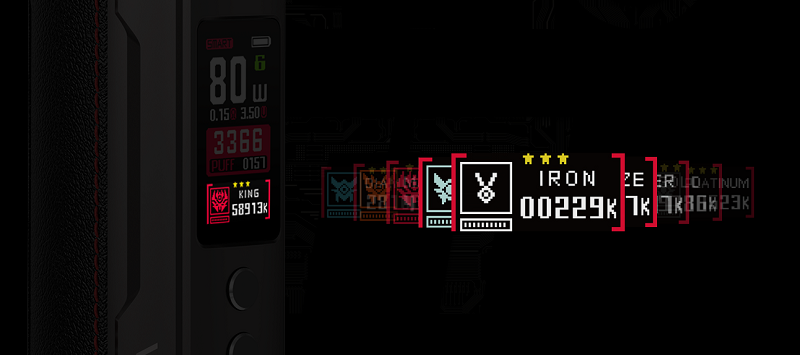 In terms of operation, the Drag X kit is managed by Voopoo's excellent Gene.TT chispet. It offers a maximum power of 80W and a 0.001 s. trigger ! In other words, the user will benefit from a powerful and very reactive valve. Thanks to the OLED display and the two small variation buttons, it is possible to adjust the power according to his desires and needs. In addition, the kit has a puff counter and a new "Score Ranking" mode. The bigger the clouds of steam, the more levels the user will reach, the more levels the user will reach, the goal being to reach the last one: the King level!

The Drag X is surmounted by a 4.5 ml pod. It is very easy to fill it from the bottom by removing the small silicone cap. Moreover, the conexion is magnetic but Voopoo has revealed working on a 510 adapter…
Of course, the airflow is adjustable thanks to a kind of knob. This system is particularly efficient since it won't move an inch when the kit is stored in a pocket or bag. The vaporizer will then be able to obtain an aerial or tighter airflow according to its desires of the moment.
Finally, the Drag X kit comes with two Mesh coils: a PnP-VM1 in 0.3 ohm (32-40W) and a PnP-VM6 in 0.15 ohm (60-80W). With its resistors, we advise you not to use e-liquids dosed with more than 10 mg of nicotine in order not to have a too powerful hit in the throat. But the Drag X kit is especially compatible with all the coils of the Voopoo PnP series! This makes it the perfect kit for both beginners and more experienced vaporisers.
Features 
Dimensions : 95 x 32,5 x 28 mm
Matérial : Zinc alloy, leather, PCTG
18650 external battery (not included)
Capacity : 4,5 ml
Gene.TT Chipset
OLED screen
Power range: 5-80W
Mode: VW
Puff counter function
Score Ranking Mode
Bottom filling
Ajustable Airflow
Magnetic connection
Resistance range: 0.1-3 ohms
Output Voltage : 3,2-4,2V
Compatible with all PnP coils
Content
1 x Drag X device
1 x Drag X pod (4,5ml)
1 x PnP-VM1 0,3 ohm coil
1 x PnP-VM6 0,15 ohm coil
1 x Type-C cable
1 x chip card
1 x warranty card
1 x user manual
Data sheet
| | |
| --- | --- |
| Device type | Kits & Packs, Pods |
| Kits | Beginner, Medium |
| Kit type | Regulated boxs kits, Pod kits |
| External battery type | 1 battery |
| Battery Type | 18650 (not included) |
| Micro USB | Charging only |
| Maximum output | 80W |
| Draw | MTL, DTL |
| Adjustable airflow | Yes |
| Capacity (ml) | 4,5 ml |
| Tank diameter | Ø 28 mm |
| Refill | Bottom |
| Drip tip type | Others |
| Child safety lock | Yes |
| Connector | Others |
| Electronic protections | Yes |
| Coils | Less than 0.5 ohm |
Additional information
| | |
| --- | --- |
| Επιλογή Χρώματος | Classic 4.5ml, Galaxy Blue 2ml, Iron Knight 2ml, Marsala 4.5ml, Retro 4.5ml |
+

ΠΟΛΙΤΙΚΗ ΠΑΡΑΔΟΣΗΣ
Με όποιον τρόπο και να γίνει η πληρωμή, αναλαμβάνουμε να παραδώσουμε τα αγαθά ή να παράσχουμε τις υπηρεσίες μας εντός 2 εργάσιμων ημερών από την υποβολή της παραγγελίας αρκεί να γίνει πριν τις 16:45. Αφορά εργάσιμες ημέρες από Δευτέρα - Παρασκευή.
+

ΕΠΙΣΤΡΟΦΕΣ/ΑΛΛΑΓΕΣ
Σε περίπτωση επιστροφής προϊόντων τα έξοδα επιστροφής επιβαρύνουν τον αγοραστή των προϊόντων (πελάτη). Αν τα προϊόντα δεν μπορούν υπό κανονικές συνθήκες να επιστραφούν ταχυδρομικώς, τότε η δαπάνη επιστροφής καθορίζεται κατόπιν συνεννόησης με το κατάστημα.
+

ΠΟΛΙΤΙΚΗ ΧΡΕΩΣΕΩΝ
Για παραγγελίες από 45 ευρώ και πάνω τα μεταφορικά είναι δωρεάν και δεν επιβαρύνουν τον αγοραστή, εκτός των περιπτώσεων που αναφέρονται
εδώ
. Σε περίπτωση αντικαταβολής η παραγγελία επιβαρύνεται με 2.5 € Παραγγελίες μικρότερες των 45€ έχουν επιβάρυνση στα μεταφορικά
2.5 €
  1.5 € για πακέτα έως 1 κιλό. Η παράδοση για Σάββατο έχει επιβάρυνση από την μεταφορική 3€.
+

ΠΟΛΙΤΙΚΗ ΑΚΥΡΩΣΗΣ
Εκτός του νόμου που δίνει το δικαίωμα επιστροφής προϊόντων (δικαίωμα υπαναχώρησης) στον αγοραστή εντός 14 ημερών, δεν ισχύουν άλλες προϋποθέσεις για την ακύρωση & επιστροφή μιας παραγγελίας.